(This post contains affiliate links.  This just means that if you click on a certain link and decide to buy the product, I'll receive a portion to help with the running of this blog.  You can check out my affiliate policy here.)
The way we start our day in the morning can make such a difference to how our day goes.
If we start off well physically, we'll be more likely to have energy throughout
the day.
If we start off well mentally, we'll be more likely to make progress in our goals and feel satisfied at the end of the day.
And if we start off well spiritually, we will likely be more aware of God throughout the day, as well as of His love and where He's leading us– and we're more likely to feel the fulfillment of a purposeful day well-lived.
Here are 10 tips that I hope will help give you ideas on how to start your day off well physically, mentally, and spiritually.
(If you like a lot of these ideas, don't feel you need to change everything at once. Choose one or two that's especially relevant to you, and add them little by little so you don't get overwhelmed.)
To Feel Your Best Physically Get:
1. A Good Night's Sleep
You might be surprised how a good night's sleep
can make a huge difference in how you feel the next day, as well as in how much you can accomplish in the day because of feeling sharp mentally.  It improves your mood and is also actually extremely physically healing.  So it's important to get enough–as you've probably heard, 8 hours is often the length that is recommended.
Check out these articles about the many benefits of a good sleep and ways you can get a better sleep.
2. A Healthy Breakfast
Unfortunately, in North America, most of our tradition breakfast foods aren't really healthy at all.  Starting the day with carbs–such as bagels, waffles, most store-bought cereals, and
even most muffins (which are full of processed wheat and sugar), put you on a sugar-high which soon results in a big crash–tiredness from low blood sugar, plus more hunger!
Much better fuel for your brain and body are food that include lots of protein, fat (yes, you heard correctly), vitamins and minerals.  Eggs are always a great option, and smoothies with lots of yummy ingredients can help you start your day off great.  Making baked goods (eg. muffins) with nut and coconut flours is a great option, too.
I often love the healthy and delicious recipes given by Luke and Trisha Gilkerson of www.intoxicatedonlife.com and the following recipe book contains tons of great breakfast ideas (click on the pic for more details):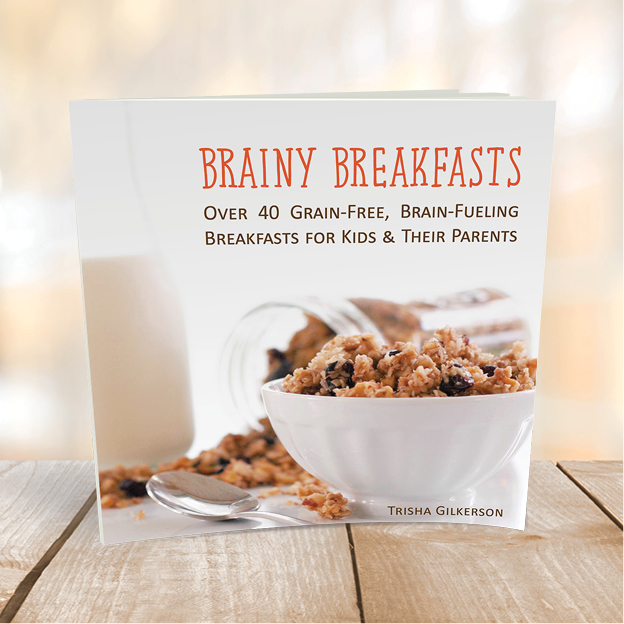 3. Exercise/Fresh Air
A lot of people like to get some exercise in the morning because it helps them get it done early and feel more energetic.  Although I think chasing a two-year-old all day (plus carrying him lots) gives me a lot of exercise– fresh air would probably still be a good thing for me.  The truth is, this winter I probably haven't been getting as much as I should, so this April, I plan to get out more.
If you have a sit-down job or feel you need more exercise, have a look at Functional Fitness.  It's not as wearing on the joints that more strenuous exercises can be, and here is an article about why it is effective.    Basically, it gets your muscles ready for real-life tasks that you may have to do during the rest of the day, such as running up a flight of stairs or picking up a toddler.  Check out these functional fitness moves on Sheknows.
Again, in April, (as part of the "Loving My Actual Life" Challenge) I plan to start doing some functional fitness perhaps outside as my son plays…
4. Natural Toiletry Products
There's a lot we can buy at the store to put on our skin that have questionable ingredients… from toothpaste to
moisturizer to makeup… and they can end up causing negative health consequences.
But there are so many great natural health products out there, that there are sure to be some that you would love (often great smelling, too).  I usually go to the natural health section of my grocery store or to a natural health store in my town, but if you want to shop on-line, here are some ideas.
For my Canadian readers Well.ca looks like a good choice (and they ship to most of the U.S, too). I've also heard great things from American bloggers about Thrive Market. Unfortunately, they don't ship to Canada yet, but they hope to be able to do that soon.
[P.S. If you want to make your physical health a priority in April, too, read about and sign up for the free monthly "Loving My Actual Life Challenges" that I'm doing and set three realistic goals for yourself in this area.  I'd look forward to encouraging you.]
To Prepare Mentally:
5. Prep the Evening Before
Setting out Clayton's and my clothes the night
before makes dressing go a lot easier in the morning (I still continue to re-realize this at times as I stumble around in the morning).
And when I actually take the
time to make some refrigerator oatmeal or another yummy breakfast the night before, this makes eating prep so much easier, too.  What can you do the evening before to make your morning run more smoothly?
6. Plan Out the Day
You can't plan for everything, but writing out a flexible
schedule which emphasizes the top three things you want to get accomplished that day can make a big difference to how much progress you make. You can do this in the morning or the evening before (and then review/adjust in the morning.)
I know if I don't "write it down", I often forget what I wanted to do and might end up wasting a lot of time fiddling around Facebook or something.
Even if you write a long list of things you'd like to do, as long as you do your top three, you'll feel a sense of accomplishment (of course, this isn't always possible either, but more doable).  I've used various kinds of planners over the years, but lately I've become really intrigued by this idea called Bullet Journaling and I've begun to try it.
7. See if You're In Line with Your Life Goals
On the other hand, it's possible to be scurrying around all day, getting lots "done", but not really moving forward in your goals and dreams.
I want to suggest taking some prayerful time some day soon to write out some
"life goals".  A few years ago, I took the advice to prayerfully write out 10 goals for my life and though they aren't set in stone, the cool thing is that I do seem to be moving in the direction of meeting them, even though I had no idea what I'd be doing now.
You can put these goals at the beginning of your planner or another prominent place and have a look at them every-so-often and see if your daily tasks and goals are really getting you closer to your life goals.
To Connect with God (Your Source and Friend):
8. Give Praise and Thanks
I think this is actually one of the best ways to
begin your day, if you can't do anything else.
Each day really is a gift from God, whether we can see that or not. And the more we focus on praising Him for how good He is and thanking Him for all the little gifts around us, the more aware of Him and His gifts we will be.
Here's a great song by Tommy Walker I've been loving lately to help me get in the praise mood.  You also might try making a list of some things you are thankful for on your schedule for the day in the morning and then thank God for them.
9. Speak Positive Affirmations
It was one of my goals this March to begin "declaring" positive affirmations about my life in the morning (out loud, but to
myself).
I wrote some out that I believe are Biblical and part of God's plan for my life (and that of all Jesus-followers) and I'd like to share my current Positive Affirmation Cards with you to use for yourself, if you like.
Add your own more specific ideas to the second page.  Speaking these truths daily helps us begin to live them out because what we say (and think) eventually lead to our attitudes and actions.
10. Take Time to Pray
Along with the importance of praising and thanking God is
cultivating a relationship with Him by simply talking to God in the morning about your day, including your worries and your hopes, and asking for help as well as direction–we all desperately need it!
Nothing is too small too talk about with Him–like a best friend, He wants to hear your thoughts, positive and negative.
We should also spend time listening for His still small voice, and looking for His leading throughout the day.
Want some help learning to listen?  I recently heard a strong recommendation of the book 2 Chairs: The Secret That Changes Everything
 and after reading the first chapter, I hope to get it soon.  I have also enjoyed the principles I've learned in the book 4 Keys to Hearing God's Voice
.
11.  BONUS Tip: Meditate on God's Word.
Though at this current time in my life, I've usually been moving studying the Bible to afternoons or evenings since it's hard to predict when
my son will wake up, I've enjoyed in the past getting up a bit early and studying the Bible in the morning.
But even if you feel that won't work for you, you could write out a special verse or two that you'd been studying the night before (onto your schedule page or a 3 by 5 card) and then read it in the morning, thinking about how it applies to your life, and asking God to help you do so.  Honestly, God loves to answer this request.  It may take time and a lot of asking, but He will eventually work those changes in you.
If you want a great resource to help you learn to study the Bible for yourself, I highly recommend Arabah Joy's e-course Bible Study Methods: 7 Ways in 7 Days.  I'm going through it now and gaining so much!
________________________________________________
So this is quite a list and maybe that sounds like an overwhelmingly busy morning for you.  But if there are one or two things that jump out at you, start there and begin to create some new habits.
Over time it may get easier to add some more ideas.  Before you know it, your mornings will feel much more positive and set the tone for a great day.
Want some more help planning out your mornings?  Crystal Payne of the Money Saving Mom blog has made a great e-course that was helpful to me called the Make Over Your Mornings E-Course.  Check it out!


Which tip(s) would you like to start to implement from the previous list?
What other ideas do you have for how to have a great morning?