As promised in my previous post about  How to Turn Your Eating Habits Around (In Delicious Ways), here is a list of some of my favourite recipes!
This isn't nearly all of them, of course–if I thought long enough, I could probably list a hundred.  And I'm always up for trying something new–so I'd love it if you'd add your favourite healthy, delicious recipe link to the comments, as well!
If you are trying to find motivation for why we should eat healthier (for example, having the energy to fulfill our purpose) have a look at this post. And if you want to find ways to gradually build healthy habits, take a look at this one.
My Own Food Guidelines
One of my goals when it comes to food is that it is so delicious, people wouldn't know it was healthy (if "healthy" is not their thing), and it's so healthy that it's better to eat more than less (within reason, of course– LOL).
As for my general principles for what constitutes "healthy", first of all, hopefully it's as close to nature as possible.  As "The Maker's Diet" says (see the "Resource" section below) when we take what God intended for food and change up the genes or take out or add things that weren't meant to fuel our bodies, we are asking for trouble.
I generally stay away from wheat for some of the above reasons, and you can find a few books near the bottom of this post in the "Resource" section that really convinced me of this.
Instead, for grains, I tend to eat quinoa (so good!) and brown rice and replace a lot of wheat flours with nut, quinoa, or coconut flours (there are other good options, too).  These options are much more nutritious–adding to your health, rather than taking it away.  I confess that most of these wheat-replacement options are quite a bit more expensive… but since I'm also trying to eat less grains anyways, the quinoa, for example, tends to last a long time–and for me, it's worth it!
I try to get quite a bit of protein, like in meats, eggs, and nuts, as well as healthy fats, such as coconut oil, butter, and olive oil (so good for the brain and the rest of the body.)  And I try to eat lots of veggies and fruit, and get lots of clean water–either pure or as herbal teas.
You'll probably notice that quite a few of these recipes are "paleo", since those are some of the guidelines I'm trying to follow lately (but not always, of course 😉 )
Don't feel you have to follow the guidelines I've chosen, but I would definitely suggest doing your own prayer and thorough research into what is "healthy".  We can all continually grow in this area.
The father of medicine, Hippocrates, said "Let food be your medicine and medicine be your food".
Sounds good to me, and hopefully the following recipes can help you do just that–in delicious ways!
Breakfast:
Although I've heard that aiming for savoury breakfasts can be healthier than sweet, I'm not (always) there yet.  But I believe the recipes below are far better than the nutritionally poor carbs in most store-bought cereals or bagels.  If you make sure to add a lot of healthy protein and fats, you are well on your way to a great start.  Adding some veggies may be even better.
Now that I've made a lot of smoothies, I don't usually follow a recipe, but just throw in some bananas, berries, almond milk and then whatever else looks like it would be yummy.  Avocados and even spinach can add an extra health boost while keeping the great taste.
Even if you don't like hot oatmeal, you might want to give this a try–the chia
sees are fun to use and excellent for your health.  The link I provide above gives a step-by-step tutorial on how to make it and lots of yummy variations, such as Blueberry Maple, Banana Cocoa, and Raspberry Vanilla!  I tend to use almond or coconut milk in my refrigerator oatmeals, which works great, too.
Okay, probably most of you know how to make scrambled eggs, but I want to include this recipe because eggs are soooo good for you–they are said to be one of the most nutritionally complete foods.  I usually add a bit of almond milk to two or three eggs and fill up on them.
I'm happy that my toddler son really likes these, too, especially when I put some ketchup in the corner to dip them in.  (Non-sugar ketchup is probably best, but use the regular if that's all you have.)
Lunch:
Though I list each of these lunch items below individually, I don't usually eat them alone, since I want to get lots of fuel at lunch time.  So along with each, I might eat an apple, dill pickles, sausage slices and cheese, etc. etc. etc. or a combination of the options below.
Avocados are an amazing healthy fat (that our brains need), so guacamole is a great thing to eat regularly.  I don't always add all the ingredients, but often just mash up an avocado and add salt and pepper and some lemon juice and then eat them with tortilla chips–but I think it's most delicious to make the whole recipe with tomatoes and onions.
I recently made a potato soup recipe that was similar to this one.  We just happened to have bacon bits, and it tasted amazing, especially with cheese melted on-top–and was very filling.
These are a quick, filling, and delicious lunch item (or supper).  Since I'm trying to avoid wheat, I like to use corn tortillas, which is how I think they are made in Mexico anyways 🙂  You can make them simply with cheese if you are in a hurry, or add onions, chicken, cooked black beans, or whatever.  Eat them dipped in a yummy salsa, such as mango salsa and/or sour cream.  You can also find recipes on the internet to make your own paleo-friendly tortillas, if you want.
Supper:
Jamie created this salad for some cowboys with the intention of convincing them to eat more vegetables–so you can imagine that it tastes pretty good!  The bacon and mustard flavours are yummy and my hubby always loves this
salad, as well.
Gluten-Free Shake and Bake Chicken
There are so many great chicken recipes out there, but this is an easy and fun one.  Don't feel you need to have all the spices in the recipe–cumin and salt and pepper or something like that should do just fine.  Have fun "shaking and baking"!
Paleo Battered Fish and Sweet Potato Fries
Though I've made something like it, I confess that I haven't actually tried this
fish recipe.  I can't remember where the recipe is I used before for battered fish.  But this one looks great!  (If you don't want to buy tapioca flour, perhaps find a recipe online that uses almond flour or something similar).
I often make fish (fried in olive oil) and just add butter to the pan and steak spice on top and that tastes really good, too.
Add the delicious sweet potato fries, and you've got wonderful fish and chips!
Snacks/Desserts
For plenty more great snack ideas, see my last post under "#7 What about temptation when I'm hungry?".  But here are a few recipes for some delish desserts/snacks that are kind of "special".
Oh She Glows Cookie Dough Bites
I have the recipe book Oh She Glows by Angela Liddon and though I'm not vegan, I love a lot of the recipes in there.  So yummy and good for you.  These cookie dough bites are amazing and require no baking.  Everyone I serve them to loves them.
Chocolate-Covered Banana Bites
So easy and so delicious!  Use dark chocolate chips if you want a bigger health kick–the bananas add enough sweetness to compensate.
Chocolate Fudge Strawberry Trifle
I was so thrilled with the results of making this trifle for my son's second birthday.  (Because the truth is, my experiments don't always taste as amazing as I hope they will. So then I try, try, try again.)  Everyone seriously loved it and so did I!  And would you believe it's healthy? (Shhhh, don't tell anyone.)
Chocolate Peanut-Butter (N)ice Cream
Simple to make with a few ingredients; yummy & no ice-cream maker needed. If you do have an ice cream maker, you might want to check out some of these ice cream recipes.   I like to use coconut milk in my homemade ice creams since it is sooo healthy, but you can often make it with cow's or goat's milk, too, if you prefer.
Some of my Favourite Health Resources
So I'd also love to quickly introduce you to some of my favourite resources for healthy living.  I'd definitely suggest having a look at these, but even if you disagree with them, again, don't leave it at that.  Do your own research and prayerfully ask God to help you find out what is healthy–there are so many competing claims out there, so we need all the help we can get!
Here are a few of my favourite websites for health information:
(One of my favourite info from a doctor on-line.  Includes lots of good nutritional info.)
Take Charge of Your Health Today
(This website includes all kinds of resources to help you on a range of topics.)
(Great scientific information on both prevention–which can include delicious foods– and healing.)
And here are a few of my favourite books about physical health:

Amazon.ca: The Maker's Diet: The 40-day health experience that will change your life forever
Amazon.com: The Maker's Diet: The 40-Day Health Experience that will Change Your Life Forever
Amazon.ca:Wheat Belly: Lose the Wheat, Lose the Weight, and Find Your Path Back To Health
Amazon.com: Wheat Belly: Lose the Wheat, Lose the Weight, and Find Your Path Back to Health
Luke and Trisha Gilkerson of the blog Intoxicated on Life wrote an e-book that shows why they've dropped wheat from their diets.  You can get the first chapter of it free here.
And here's the e-book: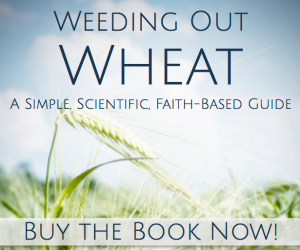 Okay, thanks for reading, and I hope you grow in your knowledge of nutrition and deliciousness, and enjoy some great new recipes!
What healthy and delicious recipes do you enjoy? Share them in the comments!
Disclaimer: I'm passionate about nutrition and natural living, but I am not a certified nutritionist, medical doctor, or practitioner of any kind, therefore  I'm not licensed to counsel anyone in medical matters.  This blog is for informative and entertainment purposes only and my coaching services empower you to come up with your own creative solutions and do your own research.  For medical advice, please seek out the advice of your trusted healthcare provider.